WEDDINGS EVERETT
He proposed, she accepted and the wedding date is finalized! Now starts the wedding planning process. The first step of wedding planning, after picking the date, is choosing a venue for the ceremony and reception.
Getting the right venue is so important that dates for weddings are often booked months in advance! Royal Banquet and Conference Hall offers an elegant venue for weddings in Everett, WA. Our banquet hall offers 7000 sq ft of space that can be used for hosting weddings with up to 800 guests.
Weddings are momentous and memorable occasions. Everyone wants the most special event of their life to be held in the perfect setting. The right venue, and venue staff, can also play a huge role in hassle-free weddings that guests will remember for a long time to come.
We are happy to help create unforgettable weddings for Everett residents by offering a wedding venue that has:
Flexible floor plans
Capacity for large or small events
Excellent lighting system
Custom decorations
Soundproof walls with echo-absorbing insulation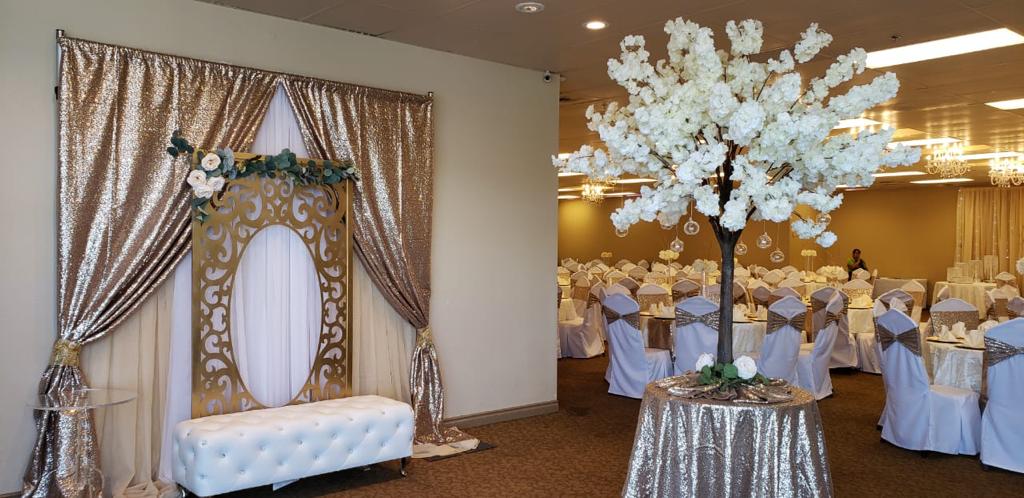 WEDDING RECEPTION EVERETT
Every couple has a specific vision and unique requirements for their wedding reception. Everybody wants their special day to be unlike any of the other weddings they have attended. No wonder they are very choosy when they go hunting for a wedding venue!
We are confident that we can satisfy the needs and wishes of those who come to us looking for a wonderful location for their wedding reception in Everett. People who wish to celebrate their wedding with an intimate gathering of family and friends, or who plan elaborate wedding reception parties, can book a wedding venue that is:
Spacious
Airy and light
Well-maintained and beautiful
Well-equipped
With us, you can rest easy knowing that we will help you plan the wedding reception of your dreams.
EVERETT WEDDING VENUE
There is no lack of options for those searching for a good wedding venue in Everett. However, not all work equally well for everyone. When it comes to organizing weddings, different people have different visions and desires.
We offer a wedding venue that reflects the needs of the bride and groom, and offers the elegance and romance that the occasion demands!
Some might prefer an indoor wedding reception, while outdoor weddings might be the choice for others. Whatever the case, they want a wedding venue that is:
Elegant and comfortable
Designed for a great party
Affordable
Unique
Royal Banquet and Conference Hall makes a great venue for weddings in Everett.
Dial (425) 956-4356 to discuss your special day.